The Best of Peru: Off the Beaten Path & Lesser Known Secrets
If I were to make a list of countries I'm dying to get back to, Peru would be near the top. The country captivated me when I traveled there in the summer of 2011, but there's loads I have left to see! Jonathan contributed a guest post a few months back featuring Peru's famous icons, and he's back to highlight some of the country's best travel secrets. How fantastic do these places sound?
When visiting a foreign country, the temptation is always to visit the most famous sites, but Peru has many hidden or less-famous wonders that are often just as outstanding and equally worth visiting. Of course, there are loads of very well-known and famous places to visit in Peru, and these are often on many bucket lists or travel checklists, but it is equally important to travel off the beaten track and try and visit some of the lesser known destinations.
Gocta Waterfall
Imagine if it were possible for one of the highest waterfalls on the planet to be completely unknown to the Western world. Well, until 2005, this was actually the case for the Gocta Waterfall in northern Peru, which is unofficially the third highest waterfall on earth according to some reports, at a phenomenal height of 771 metres.
Known to locals in the Chachapoyas region of Peru for centuries, the knowledge that this waterfall existed was kept a closely guarded secret by the locals who feared that if they released the existence of the waterfall they would be cursed by a mermaid that lives in its waters. Tourism in this region of Peru is still in its infancy, and it is true that the waterfall is "off the beaten track," but for those seeking a more unique holiday in Peru, this is certainly a marvelous natural wonder that will always inspire and impress.
Caral
Yet another of Peru's UNESCO World Heritage Sites, Caral is situated a few hours drive north of Lima, and it is possible to visit the site on a day tour from the capital city. Although in some dispute, Caral has the distinction of being the oldest archaeological site in all of the Americas and amazingly dates from 2600 BC. A visit to the area is highly recommended, and the large complex consists of a number of pyramids, platforms, and archaeological remains.
The beauty of visiting this ruin is that, unlike somewhere like Machu Picchu which is bombarded with thousands of holiday makers per day, tourism has yet to fully grasp the importance of Caral and you may find, if you do visit the site on a day tour from Lima, you are one of only a handful of tourists there.
Kuelap Fortress
Situated in far northern Peru, near the city of Chachapoyas, the ruin of Kuelap is matched in size and scope really only by Machu Picchu yet has only a tiny fraction of the number of visitors compared to its much more famous cousin. A visit to this ruin makes you feel like Indiana Jones or Hiram Bingham discovering a lost temple, as there are so few tourists and the ruin is so isolated that arriving for the first time gives a sensation of achievement and discovery.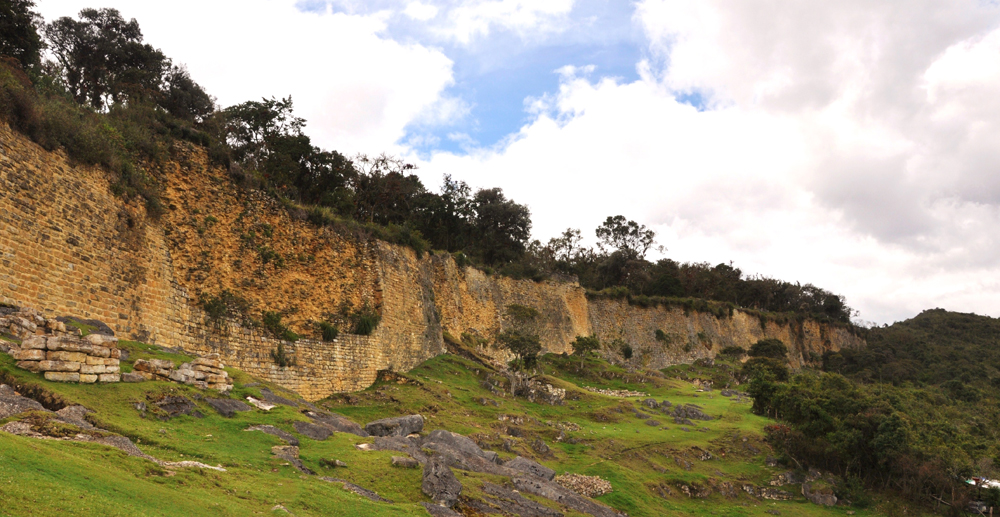 Kuelap was built by the Chachapoyas Culture between around 600 AD and 1500 AD and consists of a giant wall, which from a distance appears like a natural cliff, surrounding the hill-top fortress. Only a few select areas of the fortress have been reconstructed, and parts of the ruin are completely overgrown, which adds to the whole experience. Not to be missed.
Cotahuasi Canyon
Peru's more famous canyon is the Colca Canyon, which is a phenomenal natural wonder in its own right, and over twice as high as the Grand Canyon in the USA. Until very recently, the Colca Canyon had the distinction of being the deepest canyon in the world, but after more advanced geological equipment allowed for more accurate measurements, in recent years the Cotahuasi Canyon has claimed the crown.
At an unbelievable 4750 metres from the bottom of the valley floor to the peaks of the mountains at the side of the canyon, this natural marvel has to be seen to be believed. The isolation of the canyon, along with the less developed road links and access, make Cotahuasi a destination that really is off the beaten track. Most Peru holidays would include a visit to the equally impressive Colca Canyon, which is much more accessible with better accommodation, but for those seeking true adventure, isolation, and to say that they had visited the deepest canyon in the world, Cotahuasi is the only choice.
Peruvian food
Not so much a destination as a way of life in Peru. Globally speaking, Peruvian food has long been overshadowed by Argentine steak restaurants, ubiquitous Indian and Chinese restaurants, and other growing cuisines including Korean and Thai. However, recently Peruvian food has been rising in popularity: famous Peruvian chefs have been opening restaurants in cities such as New York and London, and Peru was recently voted World's Leading Culinary Travel Destination two years in a row at the World Travel Awards of the Year.
And rightly so! Peruvian cuisine is a fabulous blend of unique flavours, ingredients, and cooking styles. However, the best way to taste the flavour of Peru is not to visit a restaurant in New York but to travel to Peru and eat like the locals. The beauty of Peru is that geographically it is split into three main regions: the coastal desert, the Amazon Jungle, and the Andes mountains, and each region has its own unique cooking style and popular dishes.
The coastal region, particularly in places such as Lima, has a plethora of fabulous seafood dishes, not least of which is ceviche, the national dish of Peru, which consists of a mouth-watering blend of chilli, lime juice, red onion, coriander and marinated white fish. The jungle region is abundant with river fish stews and exotic fruits that are unheard of in the Western world and are a taste sensation. The Andes region, particularly during the dry season, has bitterly cold nights and so heart-warming roasted meats and stews are on the menu. Wherever you eat in Peru, you will eat exotic delicious flavours, and eat well.
This post was written by Jonathan, who has lived in and traveled through Peru extensively, and who now works for the travel company Go Andes, specialists for Peru holidays and travel to Latin America.
Disclaimer: I received no compensation for the post, just love what Jonathan is doing with his company, so have a look!