Travel Gift Guide: Home Decor Ideas to Spark Your Wanderlust
In the eighteen months I lived out of a backpack while calling a new city home every few days, the closest I ever came to "home decor" was hanging a towel out to dry on a hostel bunk bed. But as I leave my vagabond days in the past and settle into my new apartment, I find that furnishing a home is really fun. Even more fun? Finding ways to infuse every inch of my place with reminders of travel, from photos to kitchenware to souvenir knick-knacks.
With the right travel decor, you can see the world without ever having to set foot outside. Whether you're a repatriated nomad nostalgic for your days of yore, a travel fanatic looking forward to your next trip, or someone who just loves sparking the imagination with your furnishings—or if you're looking to surprise someone who is—you can't go wrong with these travel-themed home decor ideas.
Photo Prints
No need to be modest; I've seen your Instagram, and you've taken some unbelievable shots around the world. Make your home truly your own by printing your favorite travel photos as photo magnets, collages, or canvases. Wanting to give my new apartment some Spanish flair, I turned to The Canvas Factory for the latest addition to my decor. I chose a snapshot I took in Madrid (one that perfectly encapsulates how the city makes me feel, of course) and had it printed on a 16×20″ canvas. It was super easy to order and turned out great, and I love the personal touch it adds to my humble abode.
I'm giving away one of these canvas prints to a lucky reader so that you can adorn your walls with a photo that reminds you of your favorite travel memories! Keep reading to the end to see how you can win.
Travel Candles
They say smell is the scent that triggers the strongest memories, so how better to remember your travels than by filling your home with delicious scents reminiscent of your travels around the globe? Seek out candles that evoke specific memories (if you're in the U.S., Ross, Marshall's, TJ Maxx, and HomeGoods have super cheap candles), or check out Anywhere & Everywhere's line of travel-themed candles like pineapple and mango for Costa Rica or green tea for Sri Lanka.
Postcard Collages
Some of the cheapest souvenirs when traveling – and the easiest to fit into your limited luggage – are postcards. Sure, they're designed to mail home to your friends and family, but for 20 to 50 cents per destination, you can pick up an extra for yourself and have a concrete reminder of that amazing place you visited.
But what to do once you've returned from your adventures? Arrange them as a collage, either taping the postcards directly to your wall or attaching them to a poster board. It creates fun, colorful art and a great conversation piece. Or if you don't trust your own collage skills, pick up a few magnetic frames
and place your favorites on your fridge. My only question now is how I can possibly fit all of my postcards in one apartment!
Scratch Maps
All right, you've earned it: go ahead and brag a little about the amazing places you've been. Scratch maps
are super fun for keeping track of the places you've been, dreaming about where you'll go, and becoming a geography buff in between. Or for something a little different, make your way through your bucket list with a 100 Places Scratch Off Bucket List poster.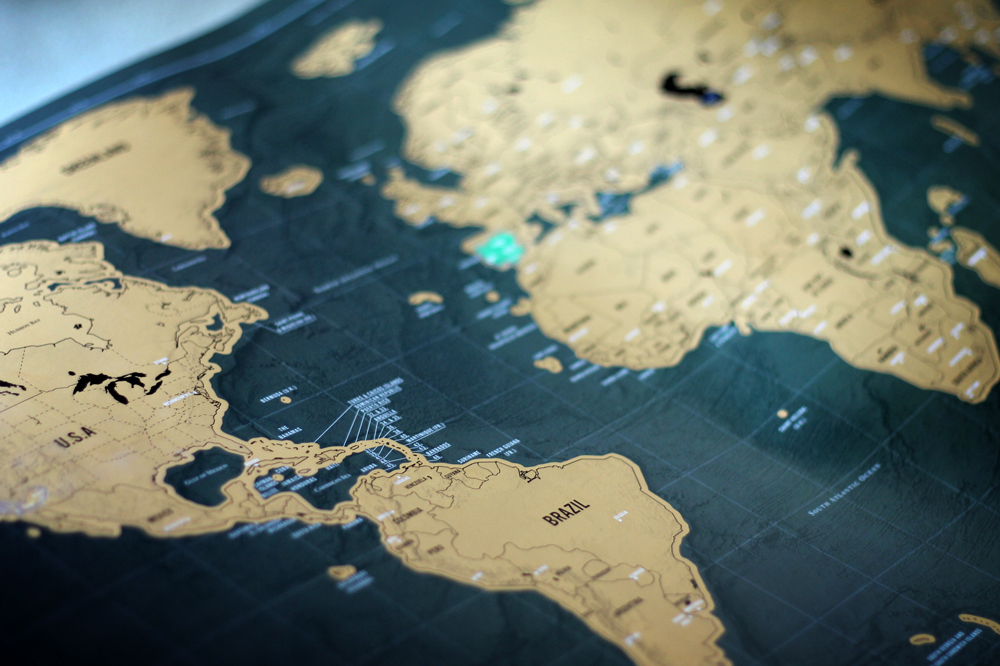 Travel Subscription Boxes
What's even more fun than picking out your own travel decor? Being surprised each month by new additions! Travel-themed subscription boxes such as are a great way to keep the souvenirs coming, even if you can't be out on the road collecting your own. GlobeIn, for example, sends handmade artisan goods from around the world, anything from coasters to pottery to jewelry. (You can even get $10 off any Artisan Box Subscription with the promo code WELCOME.)
---
Giveaway!
And now, the moment you've all been waiting for: I'm giving away one Canvas Factory 16×20" (40x50cm) canvas print of the photo of your choice, worth up to $129! If you have a favorite photo from your adventures around the world, this is the perfect opportunity to adorn your wall with your worldwide memories. Just enter via the Rafflecopter widget below. Note: this giveaway is open only to residents of the U.S. and Canada.
a Rafflecopter giveaway
Good luck!