A Hawaiian Cruise Down Memory Lane
Here's a fact I bet you didn't know about me: I'm a published Los Angeles Times writer. Big deal, right? Uhhh, perhaps let me explain first. In fourth grade, my teacher asked the class to write a blurb about our most memorable vacations. She submitted our assignments to the L.A. Times, and I got my first brush with fame when mine was published in the children's section. So, okay, perhaps I can't exactly include this feat on my resume, but, hey, it's technically true!
The topic of my paragraph? A series of trips that even today hold a very special place in my heart. For several summers in a row, when I was aged roughly nine through twelve, my extended family cruised the Hawaiian islands with American Hawaii Cruises on the S.S. Independence.
Hawaii had already been special to my family and me: I had been a few times growing up, and Maui was my grandpa's favorite place in the world. Even beyond my love for the Hawaiian islands — the smells, the music, the greenery, the rainbows, the sunsets…I could go on and on! — to young Kirstie, this cruise was just about as good as life got. I got to spend the week running around with my cool older cousins and spending time with my fantastic aunts, uncles, grandparents, and immediate family.
The kids' table at each dinner was just about the coolest place in the universe to me, as my cousin Jacob entertained us with hilarious impressions and stories that even still make me laugh. And perhaps one of the neatest aspects of cruise life to me was the fact that, because the ship was tiny as far as cruise ships go, for the first time in my life, I could run around without my parents, doing whatever I wanted whenever I wanted. To a nine year old, it was the quintessence of freedom.
Lunch buffets, all-inclusive dinners, lei-making classes, musical performances, shore expeditions around each of Hawaii's uniquely stunning islands… it was all perfect, really. A few notes of Hawaiian ukelele music or a sniff of plumeria, and I'm immediately brought back to the bliss of youth aboard the S.S. Independence.
Sadly, American Hawaii Cruises went bankrupt in 2001, and the S.S. Independence was shipwrecked in 2010, so the memories have to remain in the past. But those summers will forever live on in my family's and my hearts and are probably a major contributor to my passion for travel as an adult.
Though the Hawaii cruise stands out above the rest, I've joined my family on several other cruises throughout my life. One of my first trips out of the country, when I was two years old, was on a Royal Caribbean cruise around the Baltic region. We've also taken a few cruises to Mexico and one to Alaska.
To be honest, the cruises during my teenage years were a bit of a letdown, as, at that point, I was too old to enjoy cruises through a child's eyes but too young to participate in any of the entertainment restricted to adults. But now that I'm an adult (even if it may not feel like it at times), is it time to try cruising again?
Writer David Foster Wallace penned a fantastically snarky essay about cruises called "A Supposedly Fun Thing I'll Never Do Again." I giggled through the entire thing and found myself agreeing with some of his criticisms, but, I have to say, it also made me miss cruises and yearn to board one again. I love the adventure of backpacking, of moving from hostel to hostel and patching together public transportation, but there's something so lovely about a cruise providing all of your entertainment, dining, and transportation while you sit back, relax, and enjoy your destinations.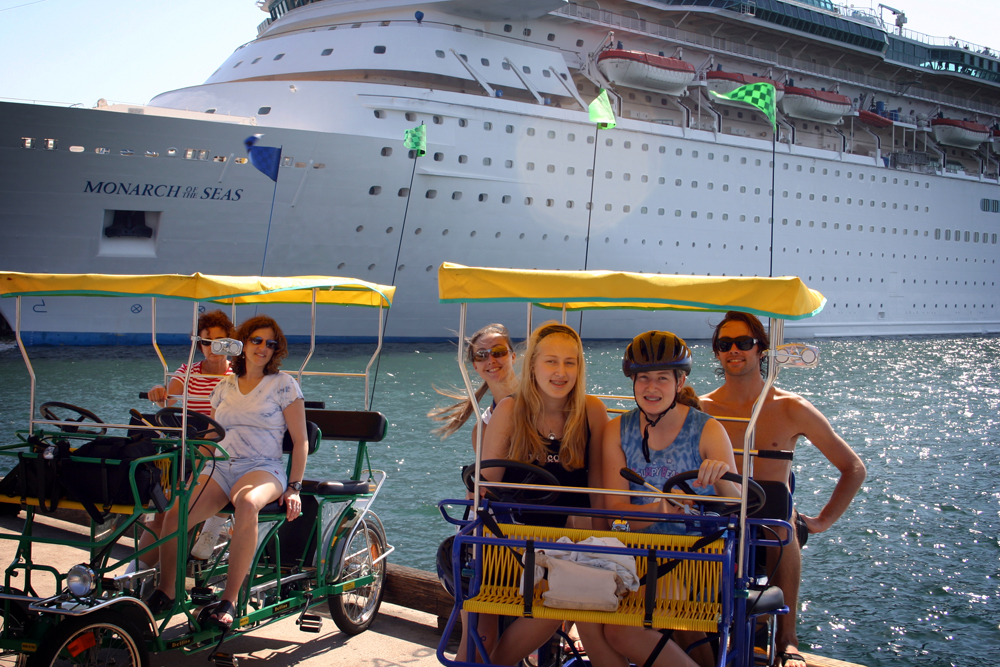 But where to? CruiseAgency is an Australian agency specializing in cruise holidays. Although I'm in the midst of a huge trip now, a girl can always dream about her future travels, so I spent a bit of time playing around on their website and fantasizing about where I could cruise in the future. One of the many enticing cruises from Sydney that make their way around the north of Australia, stopping in Queensland, Northern Territory, and Western Australia? Sailing from Argentina to Uruguay to Chile? Or how about a return to Hawaii?
I can't say when I'll next set sail on a cruise, but I can say that my cruise experiences played a major role in my life and are some of my happiest memories. Wherever I end up cruising next, I can't wait to make even more memories as special as my days aboard the S.S. Independence.
Disclaimer: this post contains a sponsored link, but all opinions are entirely my own, as always!