Cin Cin! A Tasty Guide to the Best Italian Wine Regions
If you're wild about wine, there's no shortage of international wine tasting destinations around which to plan your travels. From Argentina to South Africa and from California to Australia and New Zealand, you can't go too far without hitting some spectacular vineyards. But when it comes to wine tourism, where better to go tasting than the top wine-producing country in the world, Italy? We look at the best Italian wine regions for your next wine tasting trip.
Italy produces the equivalent of over five billion bottles of wine per year. Five billion! In a country that prolific, with 350 official varieties, 1.5 million vineyard acres, and twenty designated wine regions, how does a wine fanatic narrow down which regions to visit? I spoke with fellow travel bloggers and asked them about their favorite places across Italy to taste wine.
Top Italian Wine Regions
Before we dive into these bloggers' picks, these are the top Italian wine regions by volume produced:
Veneto (18%)
Major cities: Verona, Venice
Main varieties: Corvina, molinara, rondinella, merlot, prosecco, garganega
Tuscany (17%)
Major city: Florence
Main varieties: Sangiovese, merlot, cabernet sauvignon, cabernet franc, trebbiano, vermentino
Piedmont (11%)
Major city: Turin
Main varities: Nebbiolo, barbera, dolcetto, moscato, arneis, cortese
Emilia-Romagna (9%)
Major cities: Parma, Bologna
Main varieties: Lambrusco, sangiovese, malvasia, trebbiano
Lombardy (7%)
Major city: Milan
Main varieties: Nebbiolo, pinot noir, chardonnay, verdicchio, pinot bianco
Sicily makes the list at #13 but is still well worth checking out! Check out this guide to the 3 cities you must visit on a trip to Sicily.
Check out Wine Folly's handy Italian wine regions map to explore further: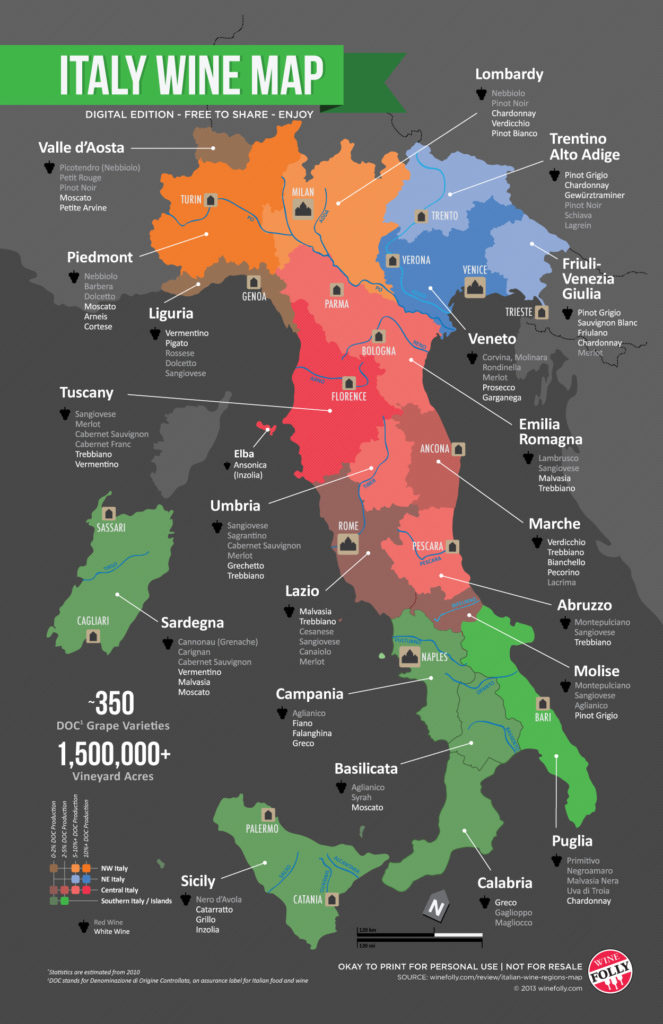 Now that you have the lay of the land, without further adieu, these travel bloggers highlight their favorite Italian wine spots and why they love them.
Where to Go Wine Tasting in Italy
Bologna and Emilia-Romagna
"In Emilia Romagna, we don't age like Tuscany, we drink!" There's a lot of truth in this playful statement I heard from vintners and wine lovers alike in Emilia-Romagna, the fertile agricultural cradle of northern Italy. The younger and sometimes sparkling wines being produced here are exciting and stand up to the rich foods Bologna is known for. Grapes like chardonnay, merlot, riesling, and cabernet sauvignon are familiar, but pignoletto, malvasia, and barbera are really turning heads when a little sparkle is added. Here are two must-visit wineries:
Orsi, Vigneto San Vito in the Valsamoggia region of Emilia-Romagna, west of Bologna. They were early adopters of biodynamics in their winemaking to return nutrients to soil. Wines are aged in fiberglass, cement, and stainless steel for maximum bubbling. Try the sparkling barbera—it's amazing and totally unexpected!
Corte D'Aibo in Monteveglio has made organic wines for thirty years and now is also biodynamic. The sustainable and solar-powered property features an agriturismo and restaurant (their food is amazing) with a beautiful country setting to offer guests. French oak barrels are used for the cab sav and wax-sealed terra cotta pots for their other reds making for sumptuous and elegant wines."
– Lori, Travlinmad
Sardinia
Most people visit Sardinia to enjoy its amazing beaches. However, wine tourism is becoming more and more of a thing in this incredibly beautiful island at the heart of the Mediterranean. A combination of favorable weather conditions, good quality of the soil, strictly local grapes, and ancient traditions have resulted in Sardinia producing some of the best wines in the world.
Sardinia is packed with beautiful vineyards and fantastic wineries. Most of them now offer wine tasting tours. To add to this, there's also a great number of wine festivals that take place throughout the year: from the Sagra del Vino Novello of San Vero Milis, which celebrates "new (red) wine;" to Cantine Aperte in Serdiana and Dolianova, near Cagliari (Sardinia's capital), where each May, five vineyards spread across two small villages open their doors to visitors that wish to learn more about wine production and taste their wines; not to mention Calici di Stelle, which takes place each second week of August in Jerzu and combines wine appreciation with stargazing.
Nuragus, vermentino, bovale, monica, and carignano are just a few of the grapes which should be tasted on a good wine tasting tour in Sardinia. Among the best wines, there's the popular Nepente di Oliena, which was appreciated by Italian revolutionary Gabriele D'Annunzio, and Turriga, of Cantine Argiolas.
– Claudia, My Adventures Across The World
Umbria
The gravel under the wheels of our car was indicative of the fact that we were over terrain that had experienced harshness. It's this aspect that contributes to the greatness of many wine regions. This element of topography is not lost on Umbria. The vines need to fight to survive, and the product, the grape, replete with character.
The white grechetto is crisp and lovely with lentils that are famous in the region. The sagrantino red is velvety and stands up to the greatest truffle dishes in the world. For a true vintner's experience, visit the Goretti Winery and be introduced to the good life that comes from the dirt under our wheels.
– Andrew and Brenda, Dish Our Town
Valpolicella
The Valpolicella is a celebrated wine district in the Veneto wine region in Northeastern Italy. Remarkable cities surround this region: Venice is to the east, Milan is to the west, and the capital of romance, Verona, is just to the south. The most famous of all of the wines in the region is the Amarone de Valpolicella. This wine is a ravenous red, full-bodied in flavor, and higher in alcohol content than most wines.
The Valpolicella wines are best paired with heavy meats and cheeses, making it the perfect wine region to visit when there is a nip in the air. The top vineyard to visit is Serego Alighieri, a Venetian estate purchased by the son of famed Italian poet, Dante Alighieri. Just about twenty-five minutes from Verona, the home of Romeo & Juliet, the Alighieri estate has a delicious tasting room, food and wine pairings, and acres of lush vineyards and cypress trees.
– Collette and Scott, Roamaroo
Whether you're a casual sipper or a full-fledged somalier, few places in the world come anywhere close to these Italian wine regions. When you add in the food, landscapes, towns, and weather, it's no wonder Italy is the fifth most visited country in the world.
Looking for even more wine inspiration? Be sure to check out these picks for California, Australia, New Zealand, and the rest of the world. Che squisito!