Madrid Itinerary: How to Make the Most of One Day in Madrid, Spain
Madrid is a city that deserves to be experienced slowly over a long period of time. After living there for two years, I consider it my favorite city in the world, and with good reason. But what if you only have 24 hours to spend in the Spanish capital? No te preocupes, there's still a world to discover in just one day in Madrid.
Whether it's your first trip there, you're revisiting and want to make sure you hit all of the hotspots, or you're a local who wants to appreciate what makes Spain's capital so great, this Madrid itinerary will take you through the most iconic sights and best things to do while giving you a taste of what makes the city so unbelievably magical.
Visiting in winter? Check out my guide to Madrid winter trips!
24-Hour Madrid Itinerary
Kick Off Your Morning Right
Wake up and head to Chocolatería San Gines between Sol and Opera to try a typical Spanish breakfast or snack, churros con chocolate. San Gines does get its fair share of tourists, but it's centrally located, open 24 hours a day, and their churros are well worth it. Order porras (a thicker version of churros that I prefer) and take them to one of the outside tables to enjoy the morning sunshine.
From there, head to Madrid's social center, Puerta del Sol, to have a look at the hustle and bustle, the famed Tío Pepe sign, and the Oso y El Madroño (bear and tree) statue that symbolizes Madrid. If you're still craving sweets after the churros, stop in for a pastry at La Mallorquina bakery.
Catch the Central Highlights
Any good Madrid itinerary would be remiss to overlook Madrid's old city center,
El Madrid de los Austrias. Continue your sightseeing at the striking Plaza Mayor and take in some street performers – see if you can spot Espiderman Gordo (Fat Spiderman) or the snappy tinsel goat man. I wouldn't recommend eating at any of the tourist traps around the plaza (especially with so many great dining spots in Madrid!), but check out the food market Mercado de San Miguel just outside the plaza and walk by Botín, which was featured in Ernest Hemingway's The Sun Also Rises and was also where artist Francisco de Goya worked as a waiter.
Continue your walk westward past La Almudena cathedral and the Palacio Real (royal palace). Neither need to be seen from inside (unless you have some time to kill), but it's definitely worth checking out the exteriors. Have a wander through the palace's gardens, the Jardines de Sabatini.
Cross through Plaza de España and across Madrid's main street, Gran Vía, to explore Madrid's quirky neighborhood (and my former home!), Malasaña, around which the post-Franco counterculture movement of the 1970s and 1980s, the Movida Madrileña, was centered.
Onward to Madrid's Golden Triangle of Art
Give your feet a rest by hopping on the metro at Tribunal (Madrid's metro is my favorite metro in the world) and taking the light blue/1 line to Atocha. Even just within Atocha station, you'll find ponds populated with turtles and a moving tribute to the March 11th, 2004 Atocha train bombings. [2021 update: the turtles can no longer be spotted in Atocha, but it's still a beautiful station to wander around!]
Outside Atocha, you'll find some of Europe's most renowned museums, the Reina Sofía and the Prado. The Reina Sofía features modern art, including works by three of my favorites, Miró, Dalí, and Picasso (Picasso's Guernica is a must see!), while the Prado displays mostly classic works. Within the Prado, don't miss Goya's Saturn Devouring His Son, Bosch's Garden of Earthly Delights, and Velázquez's Las Meninas.
Lunch and an Afternoon Stroll
For lunch, stop by El Brillante just outside the Reina Sofía. It doesn't look like anything special, but it's your typical Spanish "old man" bar, and it specializes in baguettes with calamari. If calamari isn't your thing, go for a standard like a tortilla (Spanish omelette), chorizo (sausage), or jamón serrano (cured ham) baguette. And don't forget to do as the Spanish do and order a caña (small beer) to accompany your meal!
You'll be pretty tired after your day of walking, so head to Parque del Retiro next door, a 350 acre park and one of Madrid's most popular sights. Lose yourself in the park's paths or grab an ice cream and do some sunbathing. Also check out the park's lake framed by the impressive Alfonso XII monument as well as the Palacio de Cristal glass structure, which often houses art exhibits.
Love parks and have time to go beyond Retiro? Don't miss my guide to Madrid's nature escapes!
Spaniards eat dinner no earlier than 9 or even 10, so use the early evening to slowly wander or even to take a siesta back at your hotel. You have a big night ahead of you, after all!
Experience Madrid's Nightlife
Once refreshed, it's time for tapas hopping. And you can't have a Madrid itinerary without a few tapas! Make your way to Cava Baja in the La Latina neighborhood. This street features no shortage of interesting and acclaimed tapas bars. Try one or two dishes in each before heading to the next, and definitely order a wine or beer with each!
As Madrid aficionado Hemingway wrote in Death in the Afternoon, "Nobody goes to bed in Madrid until they have killed the night." So don't even think about settling in early! While Madrid is home to quite a few grandiose nightclubs, I believe that the magic of Madrid nightlife lies not in discotecas but in simply discovering a night of your own.
You can't go wrong by starting in Puerta del Sol and picking a direction to wander. If you spot a lively bar, head in. If not, continue walking, and strike up conversations with others on the street. My favorite late night moments in Madrid occurred not in any bar or club but just spending time with friends or meeting strangers on the busy, narrow streets. For something a little more funky, head north of Gran Vía to the hippie neighborhood of Malasaña or to alternative Chueca just east. If you really want to live la vida madrileña, you may find yourself out until 6am or later. If you're not that much of a night owl, don't worry, but do enjoy your night to the fullest!
One day in Madrid will be an action-packed day that will leave you exhausted, but I hope it will also leave you as head over heels in love with Spain as I am. For tips on where to stay in Spain's capital, check out the Alpharooms guide to Madrid. ¡Disfrútate!
---
Giveaway
Update: the giveaway has now ended! Congratulations to all the winners!
Want even more tips for things to do in Madrid or any city of your choice? I'm giving away 20 promo codes for free versions of the GPSmyCity app (normally $4.99). The apps provide over 5000 self-guided walks in 470+ cities and are a pretty cool way to explore the world. I've started checking out the Havana, Cuba app for my upcoming trip and am super excited to use it in a few weeks! Enter through the Rafflecopter widget below. Note: These promo codes will only work on iOS devices.
a Rafflecopter giveaway
---
Pin it!
Want to share this Madrid itinerary with your Pinterest followers? Just hover over the image below and click "Pin it":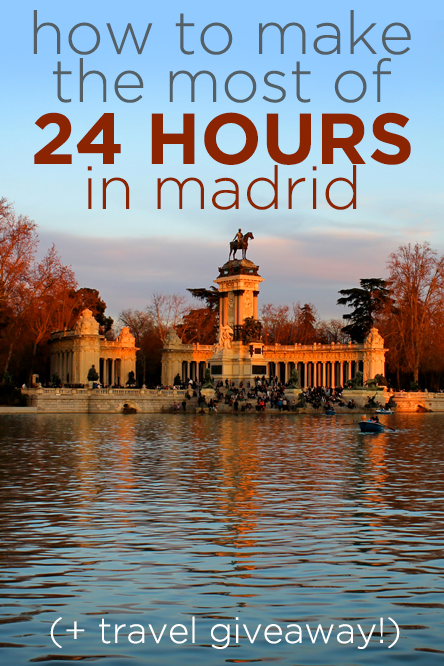 Disclaimer: This post was written in collaboration with Alpharooms, and the giveaway promo codes were provided by GPSmyCity, but all opinions are entirely my own, as always!