Noche en Sol
I usually save my posts for big events, like trips or the start of school, but I'm hoping to start writing more about everyday life in Spain, so I'll start with how I spent tonight.
Connie, who was my roommate during ILP, lives about a minute away from me, so we've started a tradition of meeting at our "spot" (the intersection of her street and the street that intersects mine) to go places together. Tonight, we met at our spot for an evening of tapas and walking around Sol.
She had read in her guide book about a few recommended tapas bars in the Sol area, so we headed toward them. The first served only seafood, so, since I don't like seafood, we decided to skip it, and instead we went to another nearby, where I got gazpacho (cold flavored tomato soup, which, to those who have never tried it, sounds disgusting, but it's actually really delicious and is one of my favorite Spanish dishes) and patatas ali-oli (potato wedges covered in ali-oli sauce, which is kind of like a garlic mayonnaise), and Connie got gazpacho, fried zucchini, and sangría. Since moving out of the dorms, I haven't really had any authentic Spanish food (now that I'm cooking for myself, making basic pasta, rice, etc. is much easier than attempting to cook Spanish cuisine, and I'm usually too cheap to eat out), so having traditional Spanish food was very nice.
I'm also going to start making an effort to put photos in these posts, because photos always make things more interesting.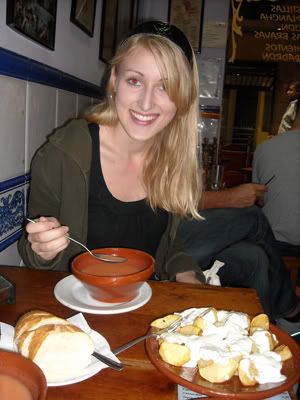 Me eating tapas.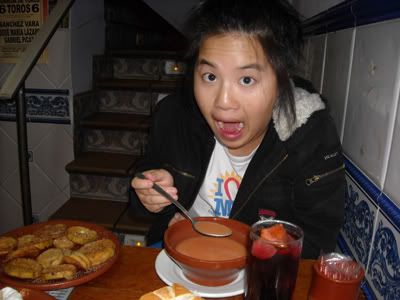 Connie looking very excited about her food.
After dinner, we strolled around for a bit, eventually stopping at a discount clothing store, where there was a lot of awful stuff (as one would expect from a store that sells shirts for €2) but also some fairly cute stuff. I managed to score a top for €3 and some shoes for €1! Considering how expensive everything is in Madrid, it's always awesome finding great deals.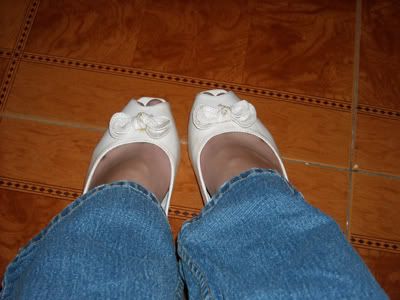 It doesn't get much better than one euro shoes!
From there, we walked around some more, stopping to watch some street performers (specifically some flamenco performers, which I loved, because flamenco music always takes me back to Granada 2006, and a string quartet), and then headed back to our apartments. What's fabulous is that Sol is only about a 5-10 minute walk from where we live. I love how easy it is to get from place to place in Madrid. If you can't walk somewhere (and you can walk most places), the metro is amazingly easy, so you never have trouble getting anywhere.
And Sol is probably my favorite area of Madrid, at least so far. There, you can find shops, restaurants, bars, discotecas, and tons of other fun stuff, and it's always extremely lively with lots of people out and about, especially at night. Plus, it's just really pretty.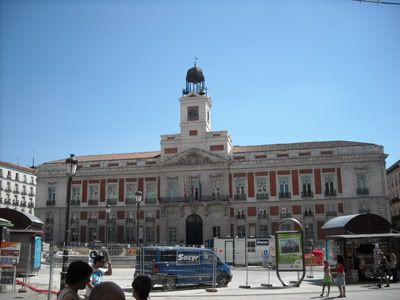 Picture taken my first full day here. Itd be prettier without the construction.
Sol is also the home of a huge New Year's Eve celebration. If you ever see Madrid's New Year's Eve celebration broadcast on TV, it's probably Puerta del Sol they're showing. Unfortunately, I won't be here this year for that, but I'm not too disappointed since I love being in Pasadena for New Year's. Sol also contains the kilómetro cero, which is considered the symbolic center of Spain.

Sol on New Year's.
Sol is a really great area to walk around in the evening, and it always has fun places to go and interesting things to see. If you're ever in Madrid, definitely visit Sol!
Kate Tucci was supposed to come visit me this weekend, but, last I heard, she got booted from her flight and was going back to California, so it sounds like she won't be coming after all, which is very disappointing. 🙁 But now I'm planning to go with some EAP friends to Segovia tomorrow, so that should be fun.
¡Hasta luego!