Budapest in Ruins
After lackluster Vienna, I was ready to return to a fantastic city, and Budapest, Hungary was just the place. We arrived late at night and began our adventures the following morning, starting with a free walking tour of the city. The quality of these varies from city to city, and this one was rather average, but it did give us a good introduction to the city's sights. My falling in love with the city began after the tour, when we wandered around the Fisherman's Bastion, a stretch of white towers overlooking the Danube River that resembled Lord of the Rings' Minas Tirith.
Later in the day, we wandered around Budapest City Park, complete with a lake, a castle, and more, and there we found the Spain versus Italy Eurocup group stage match being projected on a big screen overlooking the lake. We had our faces painted with a Spanish flag and rooted for dear old España, who ultimately tied 1-1. Disappointing result, but a beautiful setting to watch fútbol.
That night, we headed out to my favorite Budapest phenomenon: ruin pubs. In the past decade, these pubs have sprouted up around the city, taking old, abandoned buildings and factories, filling them with abandoned furniture and trash-turned-art, and creating large bars/clubs that are pretty freaking awesome. They have a chill vibe, cheap drinks, and you can spend your night exploring the many rooms, each with their own unique decorations, like furniture glued to the ceiling, old computer monitors hanging from walls, bizarre photographs, graffiti, funky lights, and anything you could possibly imagine. I can't even explain how much I loved them.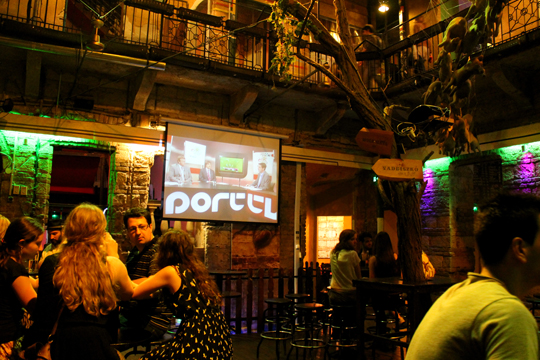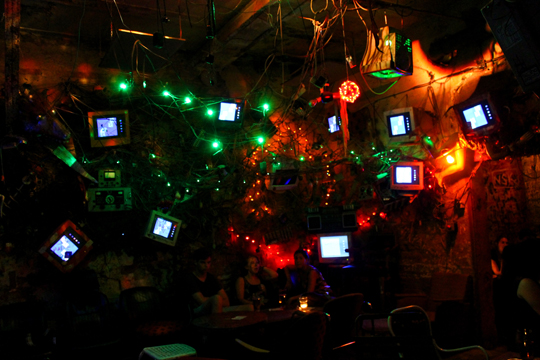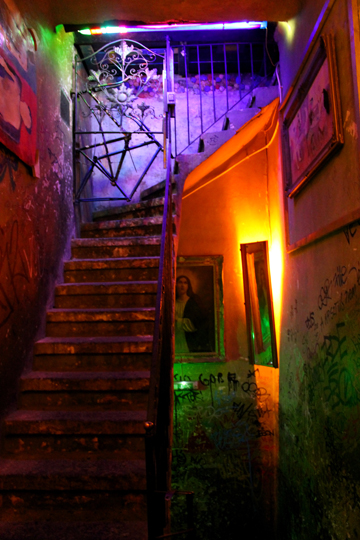 Our first destination for day two was a tea shop, Sirius Teaház, about which we had heard rave reviews. After searching for it for ages, finally finding it hidden behind a mostly unmarked door, and seeing that it wasn't open for another hour or so, we walked toward the river, wandered around a market, and then returned to the tea shop. There's only one establishment I've been to that can rival the utter coolness of Budapest's ruin pubs, and this was it. It's filled with interesting art, weird structures, and crazy nooks and crannies to crawl into, like an awesome adult playground where you can hang out for a few hours sipping tea. We found our own little nook to climb up into, barely tall enough to sit in, hidden away from the rest of the shop, and enjoyed our tea. Fabulous.
We eventually pulled ourselves away and did some sight-seeing, found lunch, observed the beautiful parliament building from across the river, and then found a park with a huge crowd watching the France versus England match. There's nothing like being in Europe for major soccer tournaments.
Despite having to get up early the next morning, we returned to the ruin pubs for a bit that night, making some American and Albanian friends and saying farewell to a city I had grown to really love in two days, off to our final destination of the trip, Bratislava, Slovakia. Budapest may not have a ton of monuments or sights to visit (although the ones it does have are beautiful), but it was cheap, and I absolutely loved the lifestyle, particularly the ruin pubs and that tea house. I can imagine it being a wonderful place to live. I'd love to go back for a few days just to hang out. Who's coming with me?