Can't Keep Me Away
In just over two months, guess where I'll be headed. The answer is shocking, I know. Back to Spain!
As I've mentioned before, I'm lucky enough to be returning to Spain to spend another year teaching English as an auxiliar de conversación, this time in the Madrid area. That's not news to you faithful readers, but what I haven't shared with you is my new school placement. Adiós, Colegio Azorín, os echaré de menos un montón, but hello to my new elementary school in the Madrid suburb called Alcorcón. I must say, I'm pretty thrilled about my placement.
Alcorcón is just about 20 minutes by Cercanías train or 30 minutes by metro from the center of Madrid, meaning I'll be able to live smack dab in the middle of my beloved city with a fairly easy commute. I've got my eye on living near the Tribunal metro stop, a fabulous, central area, although I'm open-minded. Alcorcón itself, with a population of almost 170,000, is positively ginormous compared to the 2000-person town where I worked last year, Villarrasa.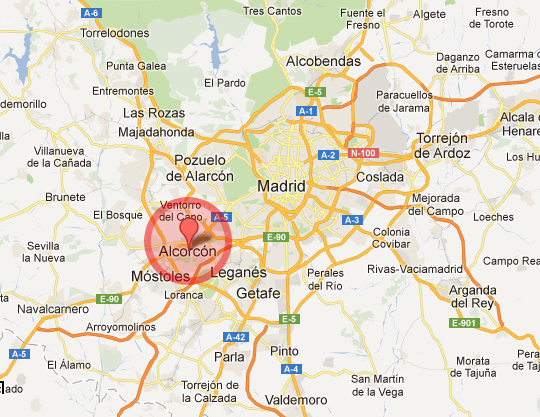 My new school is a bilingual school, meaning regular classes like math or science are conducted bilingually. Last year's school, like most schools in Spain, is working toward becoming bilingual, but for now students learn English in separate English classes. Better brush up on my dinosaur facts and multiplication tables, because this is bound to be an exciting, new experience. My new school also appears to be much larger than last year's 250-student school, which will give an entirely different feel to my job.
I recently purchased my ticket back to Spain, so I will officially be returning on September 25th! I've gotta say, I'm enjoying the heck out of being in the States for the summer, but next year is definitely shaping up to be an absolute blast.