Lagos, Portugal
There seems to be a trend of my first trip out of Spain being to Portugal. That is, you know, if it happening twice makes it a trend. Two years ago, my trip to Portugal took me to Lisbon, Braga, Porto, and Aveiro, but I hadn't been to the southern coast, which I had heard was gorgeous, so to Lagos I went!
DiscoverSevilla is a local company that organizes trips from Spain to nearby places, like Portugal and Morocco, aimed mostly at Americans studying abroad, and since I'll be helping them on a new project of theirs, I joined them for a weekend in Lagos. We met up in Sevilla Friday morning and from there took a bus to Lagos. I learned that the group consisted of two other auxiliares living in Granada, a group from UConn studying in Granada, some other Americans studying in Sevilla, and University of California students studying in Córdoba, plus our two DiscoverSevilla tour guides. So it was a bit strange being the only person there who didn't already know others, but most of the people in the group were great.
We arrived at the hotel, a beautiful hotel about a block from the ocean, and then headed back out again for a sangría sailboat cruise. We boarded a gorgeous sailboat and sailed through the stunningly blue ocean while sipping unlimited pitchers of my drink of choice, sangría. We took turns taking a smaller boat from the sailboat through the surrounding caves and grottos, which were unbelievable. Photos don't do it justice. We swam in the ocean, got to know each other, and soaked in the sun. Amazing start to the trip.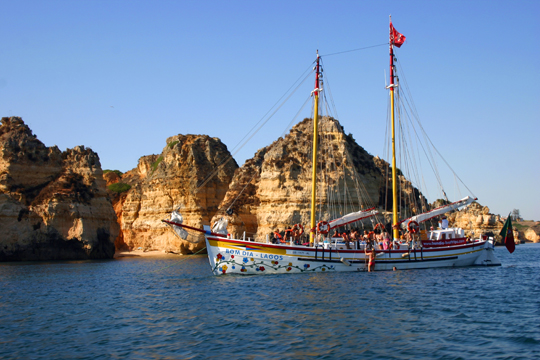 After a shower and a nap, we went out for dinner, my half of the group eating at a place with American-like burritos (pretty good), then all met up at a bar. After some time hanging out there, we ventured into a night club to find that the club had been taken over by 12-year-olds. Okay, I'm pretty sure they weren't 12, but they were about 16 (16 is the drinking age in Portugal) and there for some high school fundraiser. So it was a little strange hanging out at a club with them and feeling ancient, but it was still a good time.
The next day, we explored the same grottos on foot, getting some gorgeous overviews. Superguay. Then we went to a beach, where we sunbathed, skimboarded (well, I mostly just fell), played soccer (I hadn't played a good game of soccer in ages, so it was awesome playing on the beach, had lunch (I tried supposedly traditional Portuguese beans and sausage), and relaxed.
That evening, we took a bus to Cabo de São Vicente, the "end of the world." Years and years ago, people thought this was the end of the world, and overlooking the vast expanses of the Atlantic, it's easy to see why. Tons of tourists come to this spot to watch the sun set over the Atlantic, so we arrived just before the sunset, which was incredibly lovely. And our group even spotted a whale just off the coast, which apparently the tour guides hadn't ever seen in all their years of coming. Unfortunately, I was facing the other way taking photos when it appeared, but everyone else was super excited.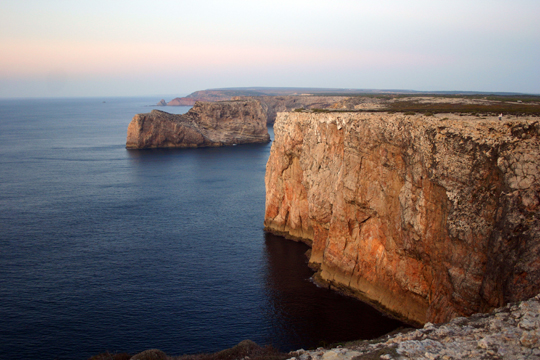 We then had dinner at a Portuguese restaurant, where I tried traditional vinho verde (green wine), a delicious sparkling wine, and talked to some girls on the trip who are studying in Sevilla. After dinner, we visited a few bars, including an "American" one that blasted country music and played college football on TV. Strange.
Our last day in Portugal, some of the group headed to Praia do Amado on the west coast for optional surf lessons. The beach was stunning, and, okay, I can't say I'm anywhere close to a surfing pro yet, but I tried! The wind was insane, meaning the waves were huge and unpredictable, so I spent most of my efforts just trying not to get knocked over by waves while swimming out, but I got some good boogie-boarding in, and I had a ton of fun. Next time, I'll get up. By the end of the lesson, I was ridiculously sore all over, but in a good way. We ate lunch, returned to Lagos, picked up the rest of the group, and returned to Sevilla.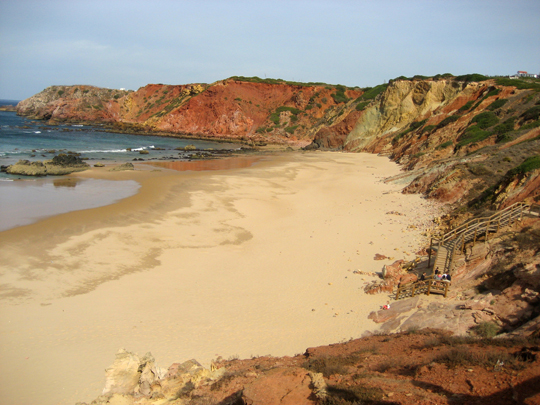 Portugal seems to be a country that's often overlooked by travelers and overshadowed by Spain, but it's gorgeous, fairly inexpensive, and just a short trip away from Sevilla. Thanks, DiscoverSevilla!