5 Reasons Sevilla is Amazing
Between my four visits to Sevilla ("Seville" in English), I fell in love with it. It's a city with a population of about 1.5 million (a little bigger than San Diego) located in the south of Spain, toward the west, about an hour from the coast. It's the capital of Andalucía, the southern comunidad autónoma (kind of the equivalent of a state).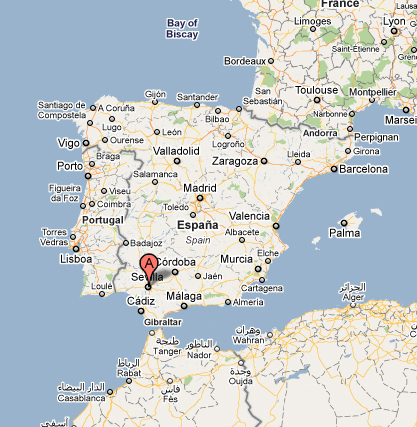 It's more than 2000 years old and was ruled by the Romans, Vandals, Visigoths, and Moors before becoming part of the kingdom of Castile in 1248, which would later unite with other kingdoms to form Spain. It's in the land of flamenco, tapas, bullfighting, and all of my other favorite Spanish stereotypes, and it offers tons of history, culture, architecture, and fun. In particular, here are 5 of my favorite aspects of
la vida sevillana
.
1. Feria de Abril
Every April (or this year in May since the schedule is based on Easter), Sevilla is home to the Feria de Abril, the "April Fair." It's a week of partying, processions, dancing sevillanas (a style of flamenco), drinking manzanilla (a type of white wine), staying up all night, visiting friends and families in casetas (tents for dancing, eating, and drinking that are owned by individual families, clubs, or other groups), and generally having a wonderful time. I was fortunate enough to attend this past year, and I had an absolute blast and could not wait to return. Spaniards seriously know how to throw giant parties, and this was the best one I've been to.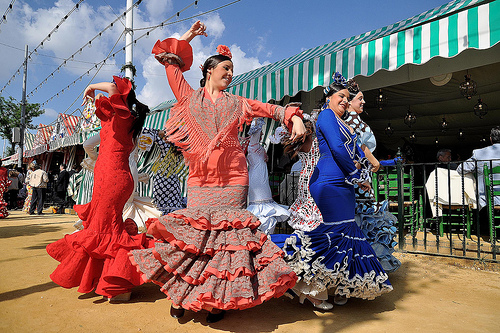 2. Sevici

Sevilla has a fabulous bike system in which you pay €25 for an entire year of access to bike racks where you can take a bike and return it to another rack within 30 minutes without extra charge. The city is small enough to walk a lot of places, and there's also buses, but this seems like a perfect way to go medium distances. I'm excited to employ it.
3. Barrio Santa Cruz
Barrio Santa Cruz is the former Jewish quarters of the city and the home of tiny, winding streets, traditional-looking houses, and flowered courtyards. It's beautiful and feels so authentically Andalucían.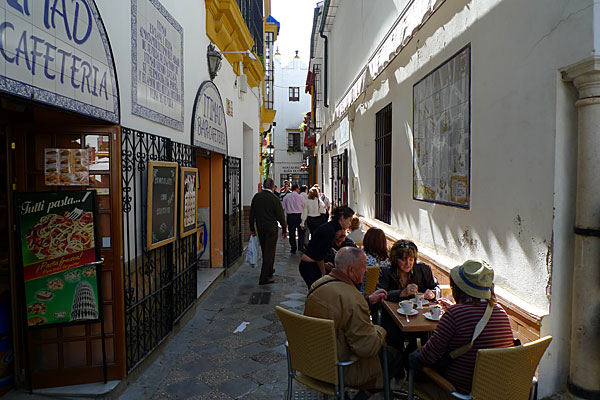 4. Muslim influence

One of my favorite things about Spain is its Muslim influence. Muslims ruled much of the Iberian peninsula between 711 and 1492 and controled Sevilla between 712 and 1248, so their influence is huge, particularly in the south. Even after the Christian Reconquest, Muslims living under Christian rule,
mudéjars
, continued contributing to the culture. Monuments built during Muslim rule or in the
mudéjar
style include the Torre del Oro (see below), the Alcázar, and the Giralda, the cathedral's tower. Don't be surprised if I highlight these monuments in future posts!
5.The smell of flowers
On my third trip to Sevilla, in March for Semana Santa, when we arrived by bus as the sun was rising, the entire city was flooded with the heavenly smell of white flowers that reminded me of gardenia or  jasmine (can anyone identify the flower in the picture below?), and I about died of bliss. If only you could capture a smell forever. Of course, Sevilla won't smell like that year-round, but when it does, I'll be in heaven once again.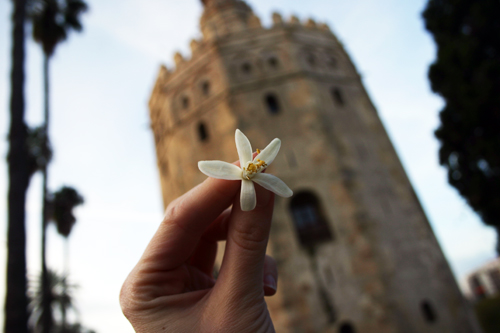 This list is far from complete, so expect more reasons soon!